Hier vind je de produkten van de Prym "Love" serie handig en overzichtelijk bij elkaar.
Een mooie serie van Prym in een leuke kleur.
Cadeautip: De handige naalden twister in een mooie aquakleur (en in tegenstelling tot de andere kleuren is deze wel inclusief naalden) of wat dacht je van het handige spelden magneet of de vulpotlood?? Allebei in aquablauw met witte stipjes.
En zo'n mooi mapje met diverse naai en stopnaalden kan iedere (beginnende) naaister zeker waarderen.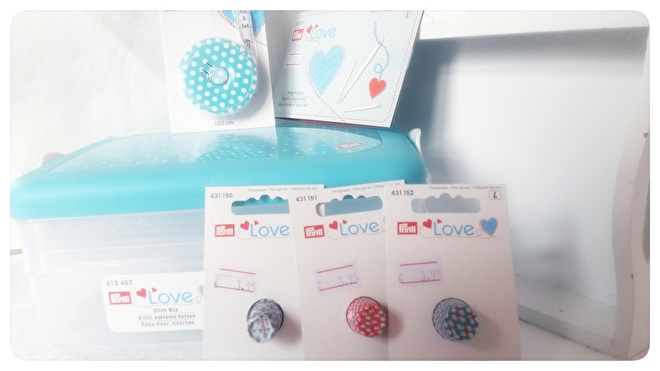 -49%

Naaldenassortiment Prym LOVE

Mooi kartonnen mapje met een assortiment naalden.

Inhoud van het mapje:

29 naai- en stopnaalden van diverse afmetingen.

1 draadinsteker.

Het mapje heeft dezelfde print als de overige artikelen van de "LOVE" serie

€ 3,95 € 2,00

prym Love naaldentwister

De handige manier om je naalden te bewaren nu ook in de aqua blauwe kleur die alle artikelen uit de prym love serie hebben.

In tegenstelling tot de andere naaldentwisters wordt deze gevuld met 19 naai en stopnaalden geleverd.

€ 8,95

-24%

Prym Love Organizer Multi

Handige organizer van Prym,
Een mooie aquakleurige spoelenring (voor naaimachinespoeltjes, maar ook perfect om te vullen met de MasterPiece Bobbins)
In het midden een speldenmagneet met opbergvakje aan de onderkant.

€ 16,50 € 12,50